It's time to celebrate National Pharmacist Day 2022, recognized each year on January 12. Most importantly, it's a day to appreciate pharmacists' critical role in healthcare and their communities. Electronic Caregiver works with pharmacies across the U.S. through its Master Care Partners (MCPs). These partners understand the value of pharmacists and the impact they can have on patients. "Patients trust what pharmacists say. They believe a pharmacist can help them," said Electronic Caregiver MCP Terry Forshee. "…Sometimes in healthcare, the way it is evolving, pharmacists are the most accessible, the easiest to talk to, and the easiest to get in front of…So, I feel like pharmacists are completely indispensable in a local community."
Electronic Caregiver offers digital health solutions, including Premier and Pro Health. The Premier is ideal for patients on the go. It includes a pocket smart health device and emergency wrist pendant with one-touch telehealth and interactive care plan support. Comparatively, the Pro Health offers the same features and remote patient monitoring. It's geared for patients managing one or more chronic illnesses and includes vitals monitoring and care circle coordination.
Above all, Electronic Caregiver's MCPs help strengthen the pharmacist-patient relationship by providing pharmacists with another tool in their doctor's bag. Here's a look at how some of Electronic Caregiver's MCPs have brought this technology to local pharmacies.
Partnering with Pharmacies Nationwide
In MCP Terry Forshee's case, he decided to combine his pharmacy services business with Electronic Caregiver. Terry, who lives in Cleveland, Tennessee, is the CEO and President of Take Charge Pharmacist Healthy Lifestyle Strategies. "My company Take Charge has been around for about ten years. Our goal has always been to find ways to increase profitability for community pharmacies," Terry said. "We find ways for them to help their patients. The large majority of patients who come into community pharmacies are seniors. But we have the entire spectrum, from the cradle to the grave, coming into our pharmacies."
Working through Take Charge, Terry has helped many independently owned pharmacies throughout the U.S. become MCPs for Electronic Caregiver. Along with generating a source of recurring revenue, pharmacies that offer Electronic Caregiver's technology provide patients with an invaluable service. With Electronic Caregiver, patients gain a sense of independence and freedom. Meanwhile, their caregivers and family get peace of mind, knowing their loved one is safe and protected.
"Patients need [pharmacists] to introduce this," Terry said. "They've never heard of anything like this. They need someone who understands their needs, understands where they are. Most [local] pharmacists know their patients' families – their sons, daughters, brothers and sisters, and nieces and nephews. So, it involves that entire caregiver system. The pharmacist is aware of that because of the constant communication with these patients."
Pharmacists as MCPs
In Las Cruces, New Mexico (Electronic Caregiver headquarters), Mesilla Valley Pharmacy has stepped up to promote Electronic Caregiver. Recognizing the value of Electronic Caregiver's technology, the founders of the independently owned pharmacy became MCPs in 2018. Certainly, Electronic Caregiver is a good match for the pharmacy, according to Jeffrey Stewart, co-founder, and Chief Marketing Officer. "At our pharmacy, we do long-term care," he said. "We work with the seniors and nursing homes and group homes and things like that. Electronic Caregiver and the services it offers patients, specifically the senior patient population, is exactly what drew me in. I knew it could help our patients because we're already in the home and doing things for them. Electronic Caregiver is just a good augment for that."
Patients can subscribe to the Premier or Pro Health directly through Mesilla Valley Pharmacy. "People can walk up to the window if they have questions for our technicians or our pharmacists. They're more than happy to help," Jeffrey said. "We're there to let them know about the benefits of Electronic Caregiver." Additionally, Electronic Caregiver is affordable. "When you think about the value it can bring for your patients, that right there is the premium option. But it's not at a premium price," Jeffrey said. We value the partnership with Mesilla Valley Pharmacy, especially during National Pharmacist Day 2022.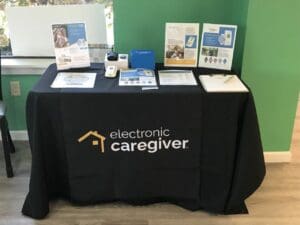 Alternatively, Victor Torres, an MCP in Reading, Pennsylvania, has taken a different approach to spread the word about Electronic Caregiver. When a new, local pharmacy opened in his community, Victor reached out to coordinate setting up an Electronic Caregiver booth.
Temple Community Pharmacy allowed him to come in for a few days in October 2021 to demonstrate Electronic Caregiver's technology. Looking ahead, Victor hopes to set up a booth regularly at the pharmacy. In the meantime, the pharmacy offers Electronic Caregiver brochures and Victor's contact information. Pharmacists at Temple Community Pharmacy also refer patients who could benefit from Electronic Caregiver to Victor.
Without a doubt, pharmacists are one the best referral sources for Electronic Caregiver, Victor said. "As people take their prescriptions to the pharmacy, the pharmacist is the first one who knows if there's any interaction with that medication," he said. "Pharmacists also know that some medications might trigger a person to feel unbalanced. By having the pharmacist there, as the first person in your line of sight, they can recommend Electronic Caregiver. If a pharmacist is referring it, it's someone reputable, and it's something they may take into consideration."
Empowering Patients
To sum up, pharmacists serve as a valuable link between patient and provider. And in many cases, they may be one of the few in-person interactions patients have with a medical professional. By giving pharmacists the ability to offer Electronic Caregiver, they empower patients to manage their health and wellness better. And we honor their work and partnerships with us on this National Pharmacist Day.
Finally, to learn more about Electronic Caregiver's products and services, find your local Connected Care Partner or call us at 833-324-5433. Are you interested in becoming a Master Care Partner for Electronic Caregiver? Call 833-324-5433, ext. 4.